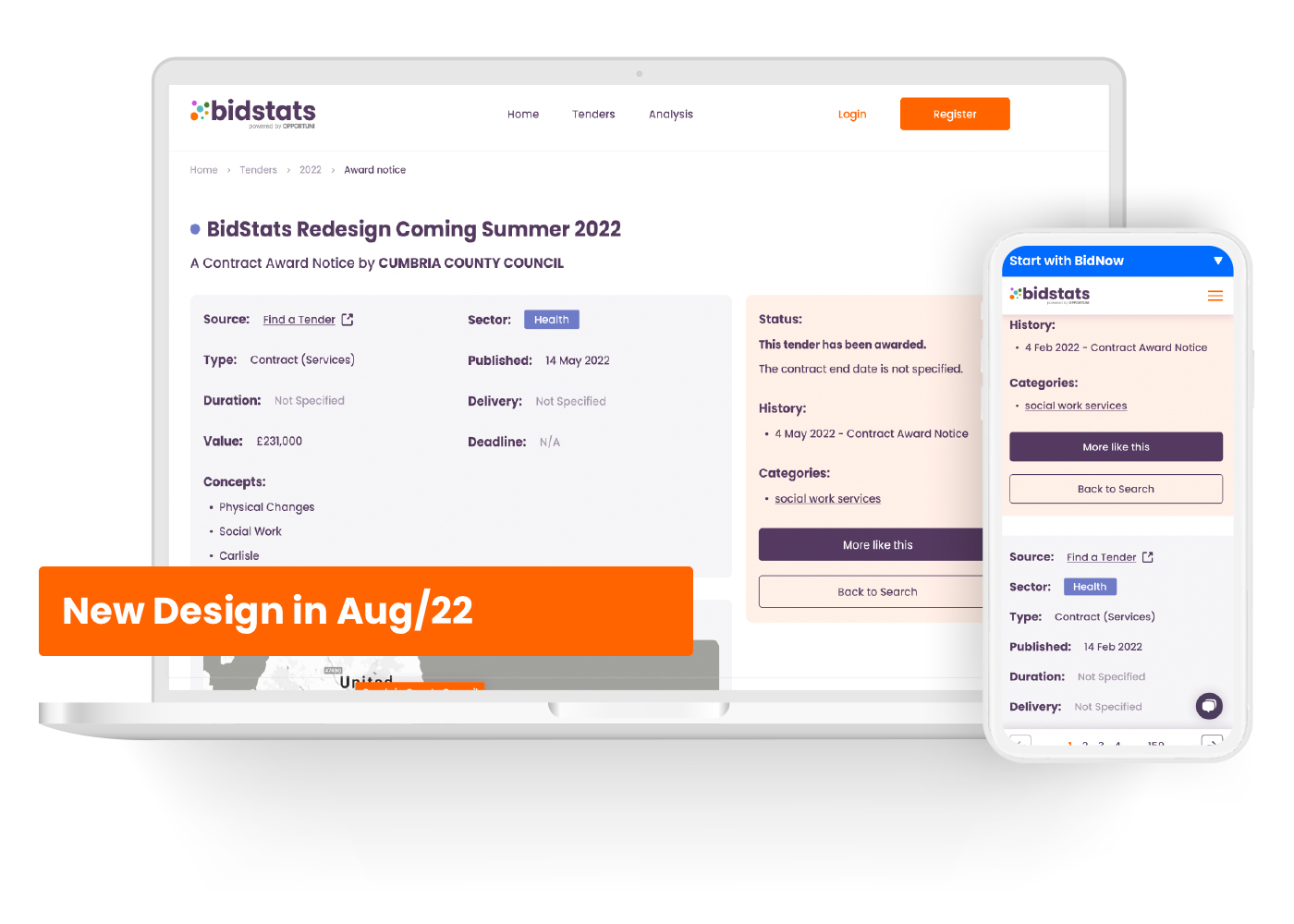 Lifetime access, available now.
As the UK's most used tender search website, it's our aim to offer industry leading products. We're offering a limited number of lifetime plans, giving you access to more tenders and historical data - for life.
Lifetime Features
Lifetime Access
Access forever to BidStats Data and Tenders
More Data Access
View historical awards, go back upto 5 years
Download Reports (Data)
Export Data from searches into Excel/CSV from Q3/22
Human Support
Industry leading support on Chat for you
Bid Writer Discounts
Access reduced cost Bid Writing Services
iOS/Android Apps
Launching from Q2/22, exclusive app notifications
Expert Webinars
Monthly invites to exclusive bidding webinars
Private Tenders
We're introducing access to private sector tenders
Compare Lifetime Offer
Free (1 Day Access)
Free
Time Limited Access
< 5 Tenders Per Day
Restricted Analytics
Robo-Support
Limited History
Back to Tenders
Plus (1 Year Access)
£300/year
12 months access
Unlimited Tenders
Unlimited Analytics
Chat/Email Support
3 years History
App Access in Q3/22
Buy BidStats+
Lifetime Access
£350/once
Lifetime Access
Unlimited Tenders
Unlimited Analytics
Chat/Email Support
5 Years of Historical Data
Excel/CSV Downloads from Q3/22
New Private Tenders from Q2/22
Dedicated Mobile app from Q3/22
Expert Webinars (Monthly)
Bid Writer Discounts
Early feature access
Buy Lifetime Access
Why Lifetime Access?
We at OPPORTUNI see ourselves as mere custodians of the BidStats website and all the good it has provided to people, businesses, schools and charities since its origin.
As custodians, we're looking at bringing options in that would secure the long-term planning of BidStats for the next decade and open up its data even more to those who need it daily for work or research.
This plan involves providing a strictly limited offer to members interested in having more extensive access to data and tenders. We expect to sell out within a few days as we have over 30,000 daily active users and sold on a first-come, first-served basis only.